Fiche Technique de
Alice au Pays des Merveilles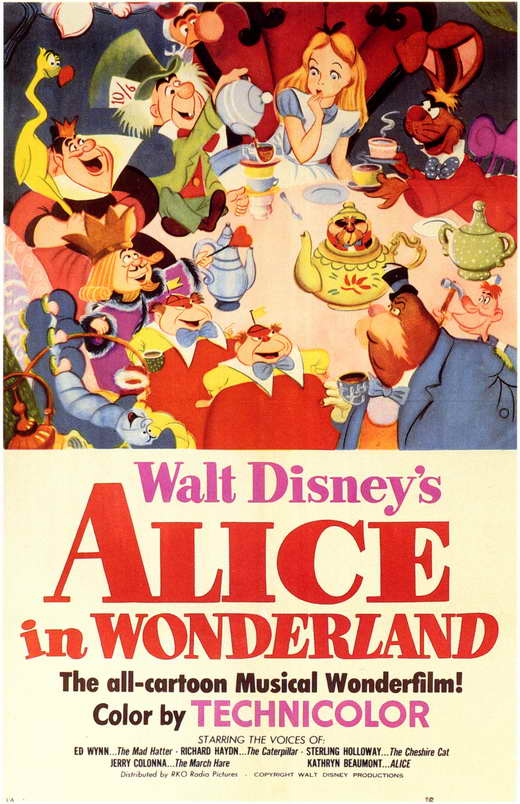 Titre français :
Alice au Pays des Merveilles
Titre original :
Alice in Wonderland
Date de sortie :
1951
Réalisation :
Clyde Geronimi, Wilfred Jackson et Hamilton Luske
Scénario :
Winston Hibler, Ted Sears, Bill Peet, Erdman Penner, Joe Rinaldi, Milt Banta, William Cottrell, Dick Kelsey, Joe Grant, Dick Huemer, Del Connell, Tom Oreb et John Walbridge d'après Lewis Carroll
Couleur et stylisme :
Mary Blair, John Hench, Claude Coats, Kenneth Anderson et Don Da Gradi
Cadrage (Layout) :
Mac Stewart, Tom Codrick, Charles Philippi, A. Kendall O'Connor, Hugh Hennesy, Don Griffith, Thor Putnam et Lance Nolley
Décors :
Ray Huffine, Ralph Hulett, Art Riley, Brice Mack, Dick Anthony et Thelma Witmer
Supervision de l'animation :
Milt Kahl, Ward Kimball, Frank Thomas, Eric Larson, John Lounsbery, Ollie Johnston, Wolfgang Reitherman, Marc Davis, Les Clark et Norman Ferguson
Animation des personnages :
Hal King, Don Lusk, Judge Whitaker, Cliff Nordberg, Hal Ambro, Harvey Toombs, Bill Justice, Fred Moore, Phil Duncan, Marvin Woodward, Bob Carlson, Hugh Fraser et Charles Nichols, Art Babbitt (non crédité)
Effets spéciaux :
George Rowley, Josh Meador, Dan McManus et Blaine Gibson
Compositeur :
Oliver Wallace
Chansons :
Bob Hilliard et Sammy Fain (
Very Good Advice, In a World of My Own, All in the Golden Afternoon, Alice in Wonderland, The Walrus and the Carpenter, The Caucus Race, I'm late, Painting the Roses Red, March of the Cards
), Don Raye et Gene de Paul (
T'was Brillig
), Mack David, Al Hoffman et Jerry Livingston (
The Unbirthday Song
), Oliver Wallace et Ted Sears (
We'll Smoke the Blighter Out, Old Father William, A-E-I-O-U
)
Orchestrations :
Joseph Dubin
Arrangements vocaux :
Jud Conlon
Distribution voix originales :
Sterling Holloway : Cheshire Cat (le Chat de Chester) ; Ed Wynn : Mad Hatter (le Chapelier fou) ; Jerry Colonna : March Hare (le Lièvre de mars) ; Richard Haydn : Caterpillar (la Chenille) ; Verna Felton : Queen of Hearts (la Reine de Cœur) ; Bill Thompson : White Rabbit (le Lapin blanc) / Dodo ; Heather Angel : Alice's sister (la Sœur d'Alice) ; Joseph Kearns : Doorknob (la Poignée de porte) ; Larry Grey : Bill the Lizzard (Bill le lézard) ; Queenie Leonard : Bird in the tree (l'Oiseau dans l'arbre ; Dink Trout : King of Hearts (le Roi de cœur) ; Doris Lloyd : The Rose (la Rose) ; Kathryn Beaumont : Alice ; James MacDonald : Dormouse (le Loir) ; The Mellomen (Bill Lee, Thurl Ravenscroft, Max Smith, Bob Hamlin) : Cards Painters (les cartes-peintres)
Distribution voix françaises (1951) :
Marie-Claire Marty : Alice ; Marcel Carpentier : le Chat de Chester ; Jean Brochard : le Chapelier fou ; Yves Furet : le Lièvre de mars ; Germaine Kerjean : la Reine de cœur ; Marcel Rainé : le Morse ; Les Frères Jacques : les Cartes-peintres ; Paul Villé : le Lapin blanc ; Gilberte Aubry : la sœur d'Alice
Durée :
75 min
Résumé :
Assise dans un arbre, Alice écoute d'une oreille distraite la leçon que lui donne sa sœur. Elle rêve d'un monde imaginaire, où tout serait possible... C'est alors qu'elle aperçoit un mystérieux lapin blanc, courant à travers champs en se plaignant d'être en retard. Curieuse, Alice le suit, entre à sa suite dans un terrier, et chute au fond du trou qu'il renfermait. Alice se retrouve alors dans un monde complètement loufoque, où la logique s'efface, et rencontre des personnages tous plus farfelus les uns que les autres. Il va alors falloir trouver la sortie, pour rentrer chez elle, mais dans un monde tel que celui-ci, rien n'est moins facile...
Source(s) :
Wikipedia
En savoir plus :
C'est par ici !